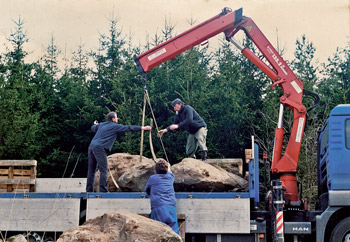 The seven boulders from which Kristek created the sculpture The Wishing Stones (2006) come from the source of the Moravian Thaya and were a symbolic gift of the town of Panenská Rozsíčka to the Glyptotheque. The pilgrims bring their wishes to them at one of the most magical stations, where the Thaya flows through the unspoilt countryside.
"The grand project which combines a material and spiritual dimension should, according to Kristek, not only support tourism in this poor region but also reinforce people's solidarity with nature. Kristek: 'it should also be a protection against the devastation of the parent riverbed. If a person experiences culture here, perhaps he will not behave so unkindly to nature.'" (1)
---
At Kristek's station The Wishing Stones, the stones form the holy centre, the area of which serves for the expression of feelings and moods via painting. The stones are a symbol of hardness, firmness and stability expressing eternity, continuity and resilience to time. Wishes written on a piece of paper, rolled up into a roll or scroll, and, just like Jewish wishes (kvitelach), inserted between the individual stones, are just as permanent and redolent of yearning. They float away with the spring water on their journey to fulfilment. In addition to the hardness and resilience of the individual, harmony is also important in making a wish come true. Wishing forms our life. We are constantly wishing for something and longing for something. The wishes of others may represent a conflict with the free will of others. Every manifest advantage also has its disadvantage, and so in our desires and wishes we must accept certain limitations.
Text: Barbora Půtová