Mission of Lubo Kristek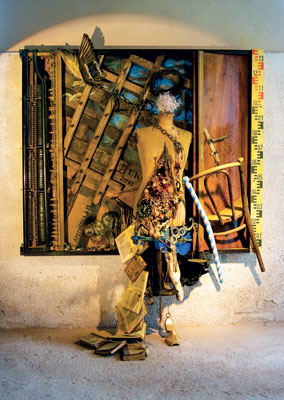 Instead of a constant search for something new, in his work Lubo Kristek looks inside himself. He looks for what we have lost in the frenzied search for novelty. The ability to see things in context. He presents his own language to the viewer, a language that does not talk to reason but to the senses, in a manner comparable to a dream.
But this is no metalanguage, no universal rules. Kristek's language is reborn with each event. It does not proceed according to predefined rules, but rather his works examine the rules. With each happening, it reveals the inner correlation of phenomena piece by piece. It combines that which was isolated and often also sleeping below the surface.
But it is not a world without order. It is as if the DNA helix runs through the work of Lubo Kristek and can take on an endless number of forms and be expressed in its current completeness at every moment.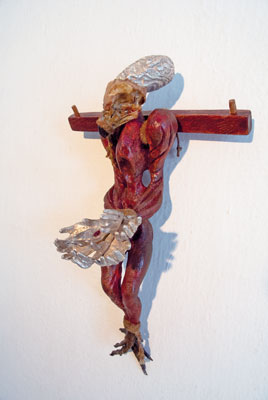 Or, if we accept Kristek's concept of holographic perception of a happening, we can also say that in every one of his works the entire picture is contained, his entire message, and the more of his works we get to know, the sharper, more detailed and more plastic is the picture formed in our minds.
In Kristek Thaya Glyptotheque, there is a combination of intentions and directions that had previously existed in the creator's mind independently of each other. The artist allows more than just art, theatre and musical expressions to flourish. He has imprinted his world view and lifelong direction on this sculptural pilgrims' way. His intent is to create a place where people and muses can meet and which would be the symbol of an active approach to one's own life and the world around us. The Glyptotheque is now blending in with its surroundings. Cultural events are held at the stations, sculptures become part of the local heritage, traditions and legends, people bring flowers and other items to them, and they arrange rendezvouses at them. Photographs appear in local chronicles and publications. Kristek Thaya Glyptotheque could be described as a journey to the spiritual, to that which exceeds us but is also deeply rooted in us.
Each work of Lubo Kristek constitutes his personal prayer. During moments of concentration and creation, such as clear existence, he chooses his next direction. Via the happenings, he reveals this process to others and he invites anyone who wants to enter into his creative space where the transformation is occurring.
Through his work, he creates a space to explore the urgent questions that are trodden into the dust of the hustle and bustle of everyday life, but which lead to the very essence of society's existence. He reveals his inner self, not so as to be copied, but to inspire others to make their own discoveries.
"Art starts when you find the uncharted paths in the soul," says Lubo Kristek.
Text: Iveta K. Pavlovičová, Barbora Půtová
Imprint