Testimony about the Soul(1)
Start in 2012 at 4th station, then 2013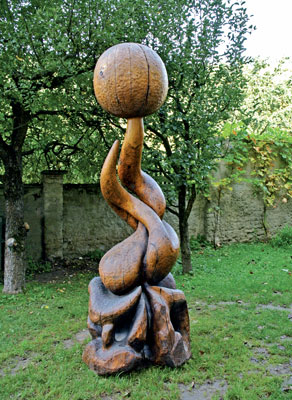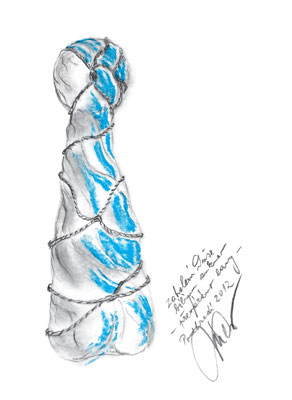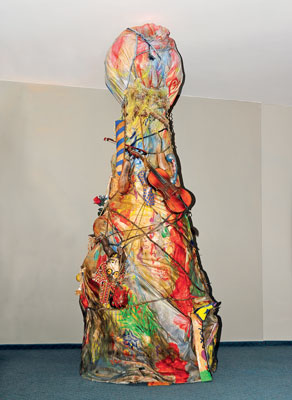 In 2012, Open Studio Days were held at Chateau Lubo. Lubo Kristek allowed visitors to look at an exhibition of his lifetime's work so far, but he also wanted to involve them actively in the creative process. He shrouded his wooden sculpture Soul from 1973, symbolising the penetration of forms in the process of development, in a white sheet. Its final gradational point is the absolute form of the sphere.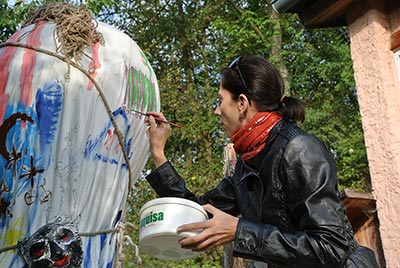 Everyone who came had the chance to touch Kristek's Soul and add his own creation to it without seeing the object under the sheet. Perhaps it was merely tactile exploration, so everyone created their impression of their own soul according to their own fantasy. They could represent it through painting, drawing or sewing on objects... A work called  Soul II – Collective Intuition was created.
Following the 2013/2014, theatre season the sculpture Soul and assemblage Soul II – Collective Intuition have been on display at the Horacké Theatre Jihlava, along with documentation of the entire project(2). The exhibition was opened (this time planned in advance) by the happening touch Testimony about the Soul in the theatre foyer.
Video: Open Studio Days – exhibition and creating the assemblage Soul II – Collective Intuition
(20–23 September 2012, Podhradí nad Dyjí)
Video: happening Testimony about the Soul
(14 September 2013, Jihlava)