The musical metal sculpture at the 9th station references the original inhabitants of Pohansko with its stringed fragment. It invites the pilgrim to stop, to listen and merge with the tones and nature surrounding him.
"The project Kristek's Glyptotheque is a wholly unique artistic treatment of the river Thaya, and at the same time it constitutes a retrospective of the work of the artist himself. The pilgrims will pass through the Thaya gallery just as naturally as the evenly flowing Thaya, which has behaved this way since time immemorial." (1)
---
Kristek's sculpture Tree of the Wind Harp (1992), which is located in the landscape, makes a harp-like sound. He incorporated a fragment of a piano with wires into the sculpture. When the wind blows, the drops hanging on steel cables hit the wires. In ancient times a magical effect was ascribed to the harp's tones, because they calmed wild animals. In the middle ages, harp playing evoked happiness and expressed praise and thanks. The harp was often an instrument of troubadours and minnesingers, and later court etiquette required a mastery of the harp. The landscape around the sculpture Tree of the Wind Harp is transformed into a musical landscape consisting of sounds, trees, plants and animals. In this way, music imprints harmony and choreography on to apparently chaotic natural events in the landscape.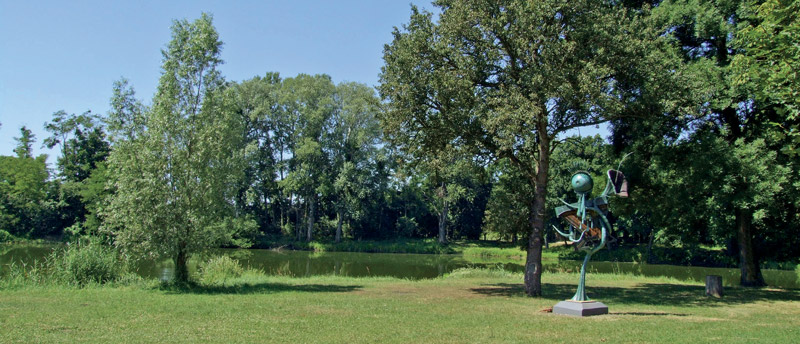 Text: Barbora Půtová